The best way to order is to e-mail me with what you would like to order or if you have any questions.
Please include the following information.
Body style
Number of bodies
Color
Window color
The basic body includes two screws and a front window. The body is not painted and the posts are not drilled. The posts are cut flat and are ready to drill.
Solid colors $15.00 ea.
Florescent colors $18.00 ea.
Pearl and Metallic colors $16.00ea.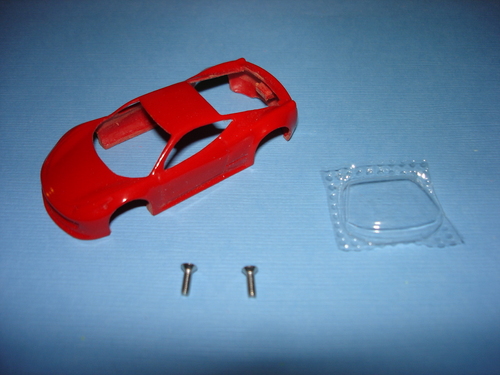 This is an example of a standard kit body.

Windows are available in clear, yellow, blue, green, and orange.
Shipping is by USPS Priority mail $11.00
First class with tracking $6.00
Payment
I do not accept payment until I get your order ready.
I accept PayPal, prefered, but please wait until I respond to your e-mail.
Money order.
Check
Email:
gcadavis@sbcglobal.net
Website:
gregsgarage.itgo.com